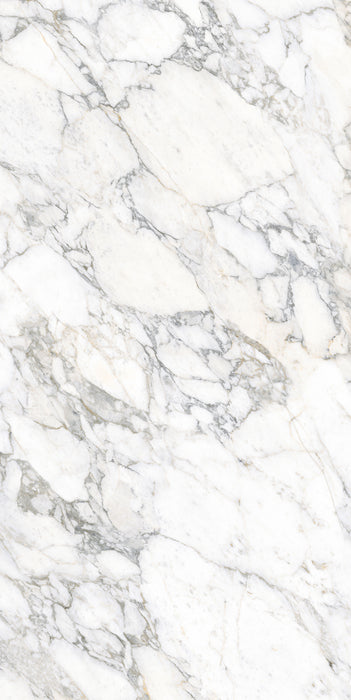 EXPANSE™
GLAZED & THIN TILE PORCELAIN
Description
The flexibility of Expanse™ gives an elegant look to surfaces for commercial and residential interior and exterior installations. This beautiful and unique large format tile offers a seamless look to floors and walls.
13 Colors | 2 Sizes
Technical Specifications
Nominal Size (in.)
63 x 126
47 x 110

Edge Detail
Rectified

Rectified

Finish
Polished
Polished (Arabesco White, Lassa White)
Matte (Lassa White)
Thickness (mm)*

6.5mm
6mm (Network)

6
7mm (Hangar)
Lbs/PC
181 - 205
140
Grout Joint Recommendation (in.)
1/8
1/8
* Tile thickness could vary based on size. Larger format tiles will have a higher thickness.
**TIP ( Testing is in progress, and results will be available soon.)
Testing 
Method
Results
Deep Abrasion Resistance C1243
1
Breaking Strength C648

≥250

Chemical Resistance C650
Resistant
Water Absorption C373

≤0.50

DCOF AcuTest WET

M - ≥60
P - <0.42

Freeze-Thaw Cycling C1026
Resistant
Scratch Hardness MOHS
6
Shade Variation
V2

VOC

None
Download and View Care and Maintenance
Sizes and Trim
Usage
USAGE TYPES:
YES/NO
COMMERCIAL FLOOR*
Yes
RESIDENTIAL FLOOR
Yes
RESIDENTIAL AND COMMERCIAL WALL
Yes
SHOWER WALL
Yes
SHOWER FLOOR
No
STEAM SHOWER

Yes

KITCHEN COUNTER

Yes

STOVE AREA

Yes

FIREPLACE FACADE

Yes

EXTERIOR WALL

Yes

EXTERIOR FLOOR
Matte - Yes
Polished - No
POOL DECK

No

POOL WATERLINE

Yes

INSIDE POOL

Yes

SPA / HOT TUB

Yes

UV/ SUN EXPOSURE SENSITIVE

No
* Emser recommends a .50 or greater DCOF for Commercial Dining Floors.
**TIP ( Testing is in progress, and results will be available soon.)
The usage chart is provided as a general guide only. Actual job site conditions may change a product's suitability for a specific application. If special conditions apply, please contact an Emser representative for clarification of use prior to purchasing.